So this has been striking fear into my heart since I had my LB. What would this be...the thought of wearing a bathing suit this summer. The weight has not melted off like you hear in those "I-left-the-hospital-lighter-then-my-pre-baby-weight" stories, but I am by the pool or at the beach almost everyday of the summer.
Here's what I wish I could wear: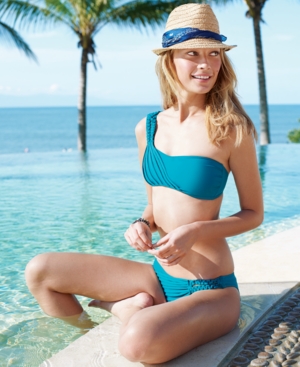 Image from macys.com
Not only is my weight an issue, but I also was one of the lucky gals blessed with linea nigra, and you are suppose to keep it out of the sun until it disappears, and the midwife that I saw said her's disappeared after 11 months. I'm only three months out.
Image from Bluefly.com
So this is the one I am thinking about getting. It has a really cute back, but I am nervous about ordering it online because nothing ever fits me right.
So to all of you, where do you buy your bathing suits?
What did you wear after you little ones were born?
**After re-reading this post, I feel like I am complaining a little about my weight, but as my mom says if that is the worst thing that I am worried about then I am pretty blessed. She's right :) **